Highlights
Adoption of USB 2.0 Micro Receiver to connect PC with this embedded motherboard through USB port.
Four choices of CPI, from 600 to 1200.
Advanced power saving technology, with function of sleep status.
Function of low voltage indicator. When the battery voltage drops below 3.4V, LED flashes at 16Hz.
An operating range of 20 meters lets you navigate media from anywhere in the room.
New Design, in the air, innovate free space by motion sensing.
Sit back and use this Air mouse to surf the Web, browse photos, or listen to music, play games in the room.
Explore your new media universe with a state-of-the-art keyboard mouse that's effortless to use in the air.
Control playback and volume with hand motions. the smart cursor image stabilization design.
Adjust volume by waving to the right or left; skip tracks with a flip of the wrist.
Automatic frequency-hopping technology, strong anti-interference, high sensitivity.
Compact, portable and tiny design, can be used for travel, school, or any other working environment.
Especially suitable for HTPC environment.
Specifications:
Operation Range: up to 20 meters.
Frequency: 2.4GHz wireless. support the somatosensory game.
System Requirements: PC with USB port.
Sensors: Gyroscope (Air Mouse).
Non-directional multi-point remote control.
OS: Windows, OS, Android, Linux.
Dimension: 14*4.2*2.8cm.
Weight: Approx 65g.
Easy and convenient to use.
Product Description
The item can accomplish functions of traditional mouse. Just handling the cordless mouse in the air, you can quickly and exactly move the cursor and control the PC. Particularly, thanks to the reserve of an infrared window, it can be used for conventional television operations. 2012 Android TV Box Partner, 2.4GHz Mini Wireless Fly Air Mouse for PC for Android Google TV BOX MF100= Air Mouse + 3D Motion Stick + Android Multifunction Remote Controller, which is designed for Smart TVs, Set-top-boxes and Android TV Boxes
It is based on Gyroscope Mems system, providing new style of MOUSE experience. Can provide accurate and easy control of the mouse cursor with anti-shake algorithm,
Motion Sensing Games changed the way games are played and made game couch potatoes actually get up off their rear ends and play a game while actually physically interacting with the game.
It is a completely unique, interactive experience, all you have to do is move to play. Point, throw, swing, slash, turn, shake or twist, it is all possible with the AF100 remote. AF100 means fun for everyone, of any age or skill level.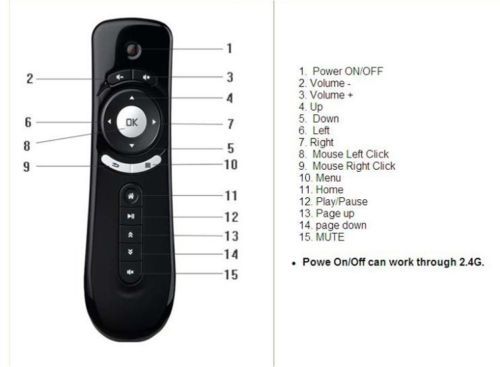 Package Include:
1 x AF100 Air Mouse
1 x USB Receiver
1 x User Manual
Informacje dodatkowe
| | |
| --- | --- |
| Producent | VenBOX |
| Weight | 0.0610 |
| Kod kreskowy EAN | Nie |
| Kolor | Сzarny |
| Rodzaj wtyczki | USB |
| Typ połączenia | Bezprzewodowy |
| Typ baterii | 2xAAA |
| Inne | Nie |